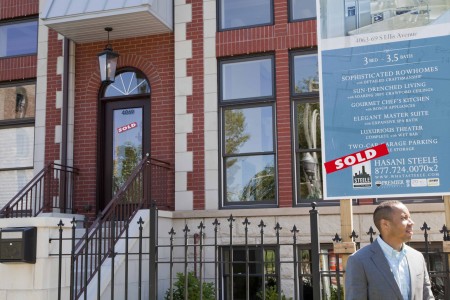 All the units of the Windsor Single Family Row Homes which is marked by its majestic peaks sold out.
RE/MAX agent and Steele Consulting Group CEO Hasani Steele worked with Premium Builders to rehabilitate the abandoned homes in Kenwood into a series of picturesque red bricked homes with magnificent ceiling detail and expansive floor plans.
The 2013 Good Neighbor Award recipient on 4063-69 S Ellis Avenue is the latest new construction in the Kenwood neighborhood in the last five years, manager of Premium Builders Ltd. Lewis Korompilas said. Hasani has worked with Korompilas to complete other award winning projects in Kenwood such as The Windsor Luxury Coach Homes and the Woodlawn/Hyde Park Township Renaissance on Kimbark condominiums.
"We both shared the vision of bringing more high end (row homes) to the Kenwood area," Korompilas said.
The three bedroom, 4.5 bathroom units were retouched to create a transitional finish with an oak staircase, luxury spa and over-sized chef's kitchen. Steele suggested the installation of elegant Crawford ceilings in the 15 foot high living space.
Dual furnaces efficiently keep summers cool and winters warm throughout the two story row home.
Paying attention to high end touches attracts buyers who have grown more selective since the housing market downturn, Korompilas said.
"At this point people need to be cautious and make the right decision of what they are buying," Korompilas said. "We have seen a lot of feedback from buyers and we were able to utilize and implement that feedback to change finishes and room sizes."
The development is located a few blocks away from the lakefront and an elementary school on the changing block of 4300 S Ellis.   Further development in the Kenwood community looks promising as the international retailer Walmart plans to open a super center in the neighboring community of Bronzeville.
Steele, a self described entrepreneur, innovator and visionary, said he looks forward to working with Premium Builders on their latest development on 4021-29 S Ellis Ave.