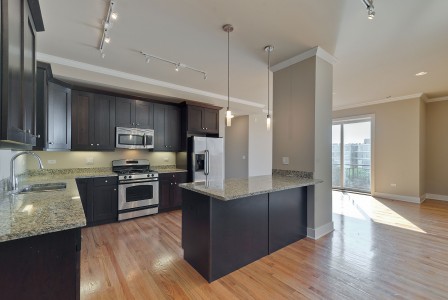 RE/MAX agent and Steele Consulting Group CEO  Hasani Steele closed out the last of nine units of the Signature View Condominiums this week, after taking the marketing project under his wing last spring.
Steele took on the task of selling the remaining leased units in the condominium complex at 207 E. 31st Street after 31st and Indiana Development Inc. reached out to him about a year ago.  He provided consulting and marketing expertise in forming the game plan to transform rental units to permanent residencies.
Steele overcame the significant challenge of coordinating schedules with existing tenants and prospective purchasers throughout the sales process.
"Selling a leased development is one of the most challenging projects to take on," Steele said. "One has to have a thorough understanding of the lending guidelines as well as a polished negotiation style in coordinating tenants and buyers."
Developer Dan Mark said he hired Steele after hearing about his work through another builder.
"He has a lot of energy and is pretty aggressive," Mark said. "My intuition was not wrong, he got us to the end."
The 3 bedroom, 2 bathroom condominium on the fifth floor of the brick wrapped elevator high rise closed on Monday. Branded as a SC Integrity home, the home has an open floor plan and is furnished with roomy closets, stainless kitchen appliances and a granite counter top island. The balcony in front of the living room provides a stunning view of the Chicago skyline.
Dunbar Park sits on the doorstep of Signature View Condominiums and the Illinois Institute of Technology is an easy stroll from the units. The lakefront, harbor and U.S. Cellular Field are within a couple miles from the condominiums.