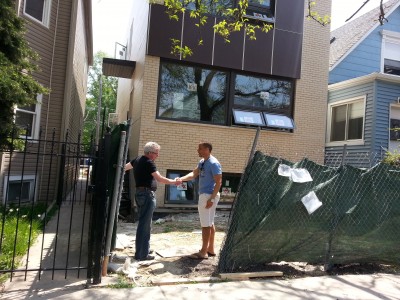 RE/MAX agent and Steele Consulting Group CEO Hasani Steele has pre-sold all six Modern Intelligence Series homes branded as energy efficient developments.
The latest home in the series at 1911 N Albany Ave. closed recently and shares the same futuristic design as other Modern Intelligence Series homes with slight changes to the floor plan.  Steele worked with Ultimate Development and Management Inc.  to outfit the 4 bedroom, 3.5 bathroom home with green infrastructure such as tank less hot water heaters, energy efficient insulation & windows, utility usage monitoring, and stunning design touches throughout.
The Modern Intelligent Series homes have a higher standard of quality than the typical new construction. Sump pumps and ejector pumps are standard and a hallmark of quality.  The joists and insulation installed have a rating that exceeds the minimum requirement.
"I have a lot of fun putting deals together and working to a mutually agreeable contract for the buyers and I think it is refreshing for the buyers to have this kind of customer service and quality," Steele said. Steele provides consulting services from conception through design and finish selection, to pre-sales and delivery.
A galley kitchen separates the living room and family area to create a feeling of spaciousness in the single family residence, Steele said. Glass cabinetry, a granite kitchen island and Samsung stainless steel appliances adds a refined taste to the home. Floor-to-ceiling windows in the living room, family room and bedroom allow for natural light to easily drench the living space.
Steele said the process of making design arrangements has grown more streamlined through the six projects and he looks forward to turning out more quality homes with the developer. He is working with the developer to create a condo development on 4719-4721 S Ingleside Ave. that will share many of the same features as the  Modern Intelligence Series homes.
"We established this brand because we knew we wanted to create an easily distinguish our quality, energy efficient product," Steele said, "Within the last month we have had over a dozen requests for new builds for late 2013 delivery."