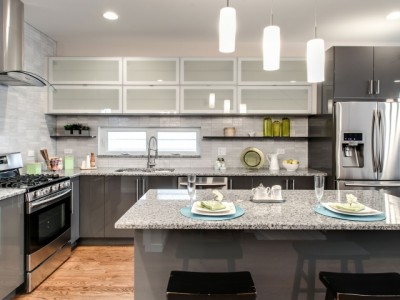 A bigger bang for the buck for home buyers in the real estate market means they want to have a hand in choosing finishes for new home construction.
RE/MAX agent and Steele Consulting Group CEO Hasani Steele has helped satisfy those needs by helping in the design and pre-selling of a string of energy efficient homes branded as the Modern Intelligence Series.  The series, which consists of newly constructed "West Bucktown" Humboldt Park single family homes offer an open floor plan and energy efficient amenities including: tank less hot water heaters, 90%+ efficient furnaces,  energy efficient insulation, green construction materials, and a selection of cosmetic choices for buyers to select.
"It's hard today to find new construction single family homes with up-to-date finishes," Steele said. "We have created opportunities in the Humboldt Park neighborhood by purchasing older homes, tearing them down, and building modern, energy efficient housing."
The latest home of the series to pre-sale in July is 1637 N Whipple St. three doors down from another Modern Intelligence Series home at 1631 N Whipple St. which shares the same modern design apparent in the facade which has over sized windows.  The new construction have opened up opportunities to involve home buyer input on finishes from the type of interior paint used to tile selection. Custom made finishes in 1637 N Whipple include soffited ceilings with accent lighting, designer fireplace, 12″x24″ porcelain tiled bathrooms, drawer microwaves, vent hoods, and a tiled back splash in the chef's kitchen.
The home's open floor plan accommodates the convenient living styles of modern families. A sumptuous 21′ by 8′ living space consists of a connected living and dining room adjoining a kitchen on the main floor. A lower level recreation room and pre-wired surround sound system provide entertainment.
Green infrastructure installed throughout the home modernizes living spaces by ensuring an efficient and quality lifestyle.  They include a tank less hot water systems and efficient air conditioning systems.
The four bedroom, 3.5 bathroom homes have been a success with all six units pre-selling in the mid $400,000's. The land had been a bargain for under $80,000 , but Steele acknowledged that prices are on the rise as people see value in investing into developments in the area.  He said more people have been referring to the surroundings of Humboldt Park as West Bucktown as they invest in homes further west in the region.
"It's naturally just time," Steele said. "Momentum from Bucktown has spilled over in the the Humbolt park neighborhood.  People are naturally looking for value especially in today's economy.  Our buyers are willing to go a little further west for a great product."
The new developments managed by the developer and Steele provide convenient access to downtown Chicago located a couple blocks from the expressway and CTA shuttle stop.

View Modern Intelligence Series homes in Humboldt Park in a larger map