Active listings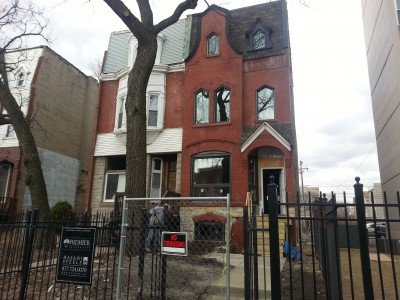 This gut rehab project (left) features a rooftop deck with a view of the lakefront. The historic, two story single family home has five bedrooms and four bathrooms.
A double lot with 50′ by 200′ dimensions that can be developed into a multiple unit residential development. The building faces east toward the lake. Property is located in Hyde Park Township nearby Myra Bradwell School and the beach.
One bedroom home co-op for lovers of vintage. Home has French Doors, walnut trim and a built in wardrobe. Single family residence is nearby public transportation, University of Chicago and less than a mile from the lakefront.
If the map does not appear below please press the "refresh" button
Sold
This four bedroom, four bathroom home with an additional coach home was bought by a north side Chicago resident who plans to restore the building's historic essence. Hasani Steele listed this gut rehab project and closed out the home at the end of June.
All four units of the Windsor Single Family Row Homes (left) are closed. The row homes of this SC Integrity project are nearby the beach.
Steele closed out the remaining leased units inside this brick wrapped elevator high rise. The three bedroom, two bathroom condominiums are located near the Illinois Institute of Technology and a couple of blocks from the lakefront.