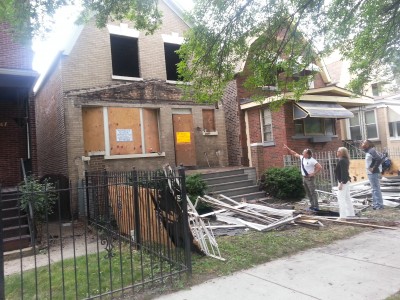 RE/MAX agent and Steele Consulting Group CEO Hasani Steele is overseeing a gut rehabilitation project of a bungalow style home close to Chicago University and the lakefront.
Steele and the developer are hoping to transform a traditional, two story brick bungalow at 6651 S University, which is typical of the types of homes on the heavily shaded block, into a modern single family home. The home is located in a desirable area west of the beach, the Jackson Park Yacht Club and the Museum of Science and Industry.
Cross over the Midway -just seven blocks north of the home- and home prices jump to about three times those of homes located on the block of 6600 because of their proximity to the university.
This is an opportunity for someone to get in early and purchase a valuable home at a very fair price," Steele said.
A real estate consultant involved in redeveloping homes from conception through selecting finishes to closing, Steele is working  with Teton Tack & Feed, LLC and Bumblebee Group, LLC  to redesign the home's floor plan. The original 3 bedroom, 1.5 bathroom home will be renovated into a 4 bedroom, 3.5 bathroom home that includes a backyard deck, basement entertainment room and a master bath, an amenity absent in many nearby Woodlawn homes. The home will be selling in the $300,000 to $400,000 price range, Steele said.

The bungalow, which was built in the beginning of the 1900's, had not been redone up to the 21st century said project manager Jola Whipple of Bumblee Group, the home's general contractor. Steele and the developer will select high end additions to bring the home up-to-date including a kitchen island, skylight and energy efficient HVAC system.
"We selected the property because of the neighborhood, street and our ability to take a cute brick bungalow and transform it into a home for modern families," said Tim Volk, the developer for Teton Tack & Feed. "Hasani provides critical input as what buyers want as far as finishes and style."
In addition to the gut rehabilitation project, Steele has marketed and helped develop additional Woodlawn homes including The Heritage of Woodlawn series, which was awarded a 2012 Good Neighbor Award by the Chicago Association of Realtors for revitalizing the Woodlawn community.
Although the Woodlawn neighborhood fell into decline in the latter half of the 20th century, Steele said he believes quality development can raise the bar for future construction in the area and consequently raise living standards for residents. Additionally, the University of Chicago has committed itself to improving the neighborhood by introducing affordable housing and educational programs to residents. The Steele Consulting Group is planning to market and sell more than 30 new single family homes in the neighborhood over the course of the next five to ten years, according to Steele.
"The economic downturn has created an opportunity for home buyers to purchase more homes for their money," Steele said. "Our clients are essentially getting a brand new home with a completely new floor plan and finishes."