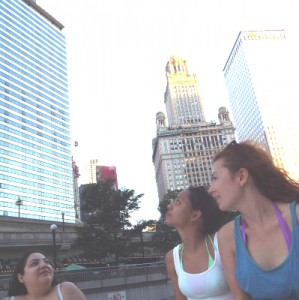 Members of the Steele Consulting Group embarked on a boat trip along Lake Michigan making a stop at the "playpen" and cruising past architectural masterpieces on the banks of the Chicago River.
RE/MAX agent and Steele Consulting Group CEO Hasani Steele and five members of the real estate consulting group rode the boat out from a harbor in Chicago's south loop to the "playpen" by Ohio Street Beach where team members enjoyed the cool water on the sweltering day.
Steele provides consulting services from conception to design to market delivery.
"It was a day for the team to regroup and relax at the end of the week," Steele said. "Outside the time we spend working with clients we try to have fun."
Later in the afternoon, team members toured the historical landmarks along the Chicago River after passing through the canal locks at Navy Pier. The river is used for transportation, tours of Chicago architecture and as a source of drinking water. Engineers reversed the flow of the river inland in 1900 through a series of canal locks to channel water through the Chicago Sanitary and Ship Canal.
The buildings along the river ranged from glistening, glass skyscrapers such as the Trump International Hotel to stoic, brick historical landmarks such as 35 E. Wacker Drive, originally known as the Jewelers Building.
The Merchandise Mart, an architectural behemoth, stands guardian to the Chicago River entrance and covers more than 4 million square feet. Developed in the 1920's by the Marshall Field & Co., the building gave merchants space to market their wares and was used for trade shows which attracted an international audience. During World War II, government offices replaced commercial spaces in the building.
Team members also passed by Willis Tower, one of the most well known skyscrapers in downtown Chicago. Towering 110 stories, the foundations of  the building consist of tubes of different heights wrapped together giving the skyscraper its staircase appearance. The building, formerly known as Sears Tower, was originally occupied by Sears, but the company handed its naming rights down to Willis Group after it moved out.
The boat passed another architectural masterpiece hiding behind its nondescript title of 35 E. Wacker Drive. Formerly known as the Jewelers Building, the terra-cotta skyscraper's Roman and gothic influences are apparent in the ornate columns surrounding the building and its fancy dome. That dome once housed a speakeasy owned by Al Capone.
Many jewelry retailers feared their precious stones would be stolen while they drove to the building. As a result, a car elevator was constructed inside to carry passengers and their vehicles up to their office floors. A few years later, however ,the elevator was decommissioned and replaced with a passenger elevator. Today the interior of the building has been gutted and rehabilitated, but its façade and structure have been preserved.
"The history of the buildings constructed along the Chicago River is amazing in that each of them story behind it," Steele said.