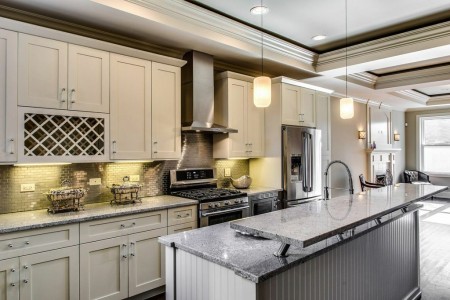 A Bronzeville two story brick building built in the year Nintendo was founded pre-sold after a gut rehabilitation of the single family residence was completed.
RE/MAX agent and Steele Consulting Group CEO Hasani Steele listed the home located at 3638 S Giles Ave. The original home was in dilapidated condition and had a worn out exterior.
Avante Garde Design Group teamed up with Steele to completely overhaul the structure including completely refacing the facade. Steele collaborated with Avante Garde and redesigned the floor plan by incorporating a Galley kitchen with a rear dining and forward living space.   The 3 bedroom, 3.5 bathroom home is furnished with a theater room, two car garage, designer lighting and hotel inspired master suite. A deck and yard in the 2230 square foot lot creates a feeling of openness.
"We're always raising the bar on these homes," the developer said. "Our houses always price for the most money because we don't cut corners … we just try to get everything right."
The home is in a convenient location located less than a mile away from the lakefront and the Dan Ryan expressway. The quiet neighborhood surrounding the home appealed to the buyer, the developer said.
The Bronzeville community used to be nicknamed "the Black Metropolis" because it contains many hallmarks of African American urban history. Businesses owned by African Americans in the historical district flourished in the early 20th century, but floundered with the onset of the Great Depression. Famous people who contributed to developments in the historical district include banker Jesse Binga, Chicago Bee founder Anthony Overton and civil rights activist Ida B. Wells.
Steele has worked with the developer on several Bronzeville residential projects. Retail in the area has also picked up with a Walmart and Roundy's Supermarket Inc. planning to expand into the community.