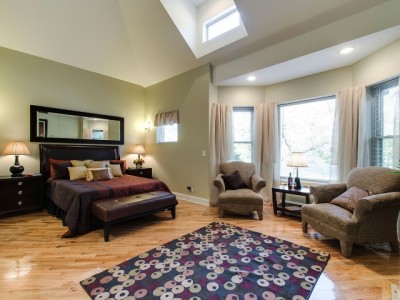 RE/MAX agent Hasani Steele's residential home rehabilitation project on South King Drive has gone viral on Facebook.
The 2013 Good Neighbor Award recipient is a two story brick residence once home to Jesse Binga, one of Chicago's most successful African American real estate bankers in the beginning of 1900's. Binga's mother was a home developer and he followed in her footsteps  to become the leading entrepreneur in Chicago.
The property turned the corner from a dilapidated residence missing a master bathroom, garage and a navigable floor plan to a luxury, SC Integrity home through coordinated efforts of the Steele Consulting Group and developer Oak Lawn-based Prime Capital Group.
"The goal from day one was to win a Bruce Abrams Award," Steele said." We are very excited for the recognition in winning a Good Neighbor Award."
Steele and the client motivated investors to refinish the two story flat despite facing significant obstacles.
"Whenever you go back over someone's revisions it's like taking off four or five layers of paint," Steele said. "We basically had to redo everything."
Finding marketable properties near wide public spaces such as Washington Park, which neighbors the South King Drive home, will become more difficult for agents as the housing market revives and population increases, Steele said. The Steele Consulting Group has been involved in several residential projects near Washington Park including 4918 S. Indiana Ave., a Good Neighbor Award winner that has a few units remaining.
Hasani hopes to bring the same amount of motivation and energy devoted toward redevelopment projects in the Gold Coast into restoring the beauty of the South Side.
"People can appreciate the view of the parks and boulevards the South Side has to offer," Steele said. "We have an opportunity for a fresh start and to restore its original essence."